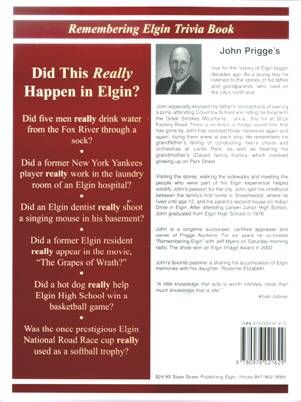 John has had a lifelong love affair with Elgin's rich history. As a young boy, he listened to the stories of his father and grandparents, who lived on the city's north end. He especially enjoyed his father's recollections of owning a pony, attending Columbia School and riding his bicycle to the Great Smokey Mountains---a.k.a., the hill at Shoe Factory Road.
There is no fence or hedge round time that has gone by. John has revisited those memories again and again, loving them anew at each stop.
He remembers his grandfather's telling of conducting men's choirs and orchestras at Lords Park, as well as hearing his grandmother's (Dauel) family history, which involved growing up on Park Street. Visiting the stores, walking the sidewalks and meeting the people who were part of his Elgin experience helped solidify John's passion for the city. John split his childhood between the family's first home in Streamwood, where he lived until age 12, and his parent's second house on Indian Drive in Elgin. After attending Larsen Junior High School, John graduated from Elgin High School in 1976.
For six years he co-hosted Remembering Elgin with Jeff Myers on local Saturday morning radio. The show won an Elgin Image Award in 2002.